[Workshop] Creative Movement in Nature – Exploring 6 elements

Creative Movement in Nature: Exploring 6 elements (Air, Fire, Water, Earth, Wood & Minerals)
June 16-17 (Sat/Sun), 2023, Zoom
Marcia Plevin
---
About workshop
It is not a question of embodying the earth elements which are already embodied in us. It is instead deepening the realization of unity consciousness which can 'wake us up' to respect and have a heightened sense of awareness of what composes our bodies.
Using Creative Movement practice, our seminar will explore and celebrate through movement, silence, dance and meditation that we are not separate from the earth.   We will use creative processes to move through the 6 elements that compose our body:  air, fire, water, earth, wood and minerals.
The first section of the 8-hour workshop will speak briefly to the theoretical and actual research in this area.  We will then raise the energy field, the Ch'i in and around our own earth bodies with the deepening of perceptive/somatic awareness. Through guided mediations and movement, the aim is to open the sense doors through a state of Te/De that within Chinese philosophy indicates inner power for good intentions, respect, authenticity and harmony within oneself and for others.
The second section of the workshop will be to map our internal earth landscape through dance, movement, visual art and poetry.
The objective is to increase ecological awareness that in turn can have the effect of 'waking-up' to healthier choices for ourselves and how we move through life.
The earth environment that you live in landscapes your body/mind as internally we already live with landscapes of the earth.
The question is:  How do They Meet?         
Earth is our Nature: we are as much a part of the planet as each cell in our body is a part of us. — Mike Samuels, Hal Zina Bennett.  Well Body, Well Earth
           
---
Instructor
Marcia Plevin (US/Italy), BC-DMT, NCC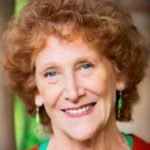 Marcia's background has taken her from performing artist, choreographer and dance teacher in New York city, to Italy where, she studied to became a board certified dance movement therapist (DMT), an American board certified counselor and Italian psychologist, to pioneering DMT in Italy, Finland and Turkey. Co–founder in 1993 of the training program Creative movement- method Garcia-Plevin, the book  which describes the training, Creative Movement and Dance has been  published in Italian, French and English.  She received DMT training from Art Therapy Italiana in collaboration with Goldsmith College, University of London with a certification of  art psychotherapist.  She is a senior faculty member and supervisor for the Institute of Expressive Arts Psychotherapy, Art Therapy Italiana.  Clinical practice in the past 20 years has been with patients recovering from substance abuse, adult psychiatric patients and with hemo-oncological unit patients on the pediatric unit of the Vatican children's hospital.  Authentic Movement teacher and trainer she has begun and followed groups in Italy, Finland and Turkey. Marcia is a recent member of the faculty of Inspirees DMT programs in China.
---
Apply for this workshop
Time: June 16-17 (Fri/Sat), 9am – 12pm (CET), 8am – 11am (GMT)
Place: Zoom
Fee: 200 euro; 150 euro (early bird before May 25), 175 euro (registered IACAET member)
Send email to education@inspirees.com to register